Upcoming courses - March 2019
We will be presenting a few basic and advanced sniper courses during the course of March to May 2019.
The Basic Sniper course is a prerequisite for the Advanced Sniper Course. You cannot attend the advanced Sniper course if you haven't done the basic course. You need to have your own bolt action rifle to be able attend any sniper courses we present.
The curriculum for the Basic Course is the following:
Introduction to the sniping concept
Equipment
Rifle
Telescopes
Basic ballistics
Setting up of sniper system ( shooter, rifle, telescope and ammunition)
Basic marksman ship
The curriculum for the Advanced Sniper builds on the foundation laid in the basic course and is the following
Advance shooting techniques
Range and wind estimations
Stalking techniques- camouflage and movement
Angle shooting
Special shooting situations ( shooting through mediums)
Advance ballistics
Hides
Observation posts
Anti-tracking
The Advanced course will stretch for an entire weekend, starting at Friday evening up to Sunday afternoon. We will walk in and establish a temporary base on Friday night. Saturday will be spent learning walk n stalk and camouflage techniques. The Sunday you will approaching your hide and take long range, advanced shots. We might even do an abseil here and there. The course will be either be in the Magaliesberg or in Northern Natal. The details will be finalised closer to the time.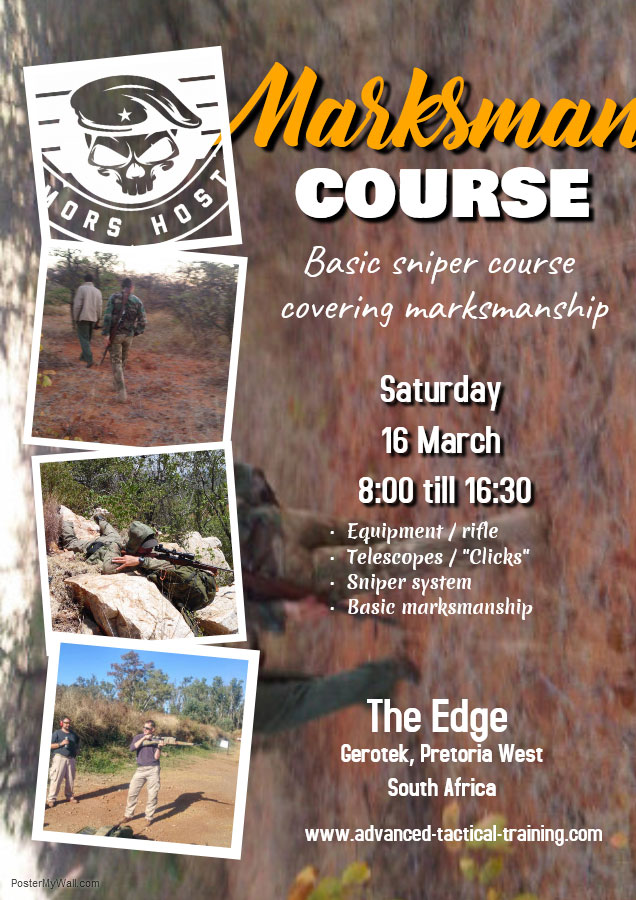 Please note the following: Spaces are limited to 10 students for the Basic Sniper course, In order to book your place, you need the pay the amount into the following account:
Account name: The Edge STA
Standard Bank Cheque
Account number: 41 030 6711
Branch Code 012645
This amount is non-refundable, so please make sure you will attend the course. Email proof of payment to info@tesi.co.za and francois@advanced-tactical-training.com, with the following as reference: Your Name – Sniper
We will be limiting the basic course to 10 students. The details of the courses are given below: