Upcoming courses - 27 April 2019
Basic Sniper course covering marksmanship
We will be presenting a few basic and advanced sniper courses during the course of March to May 2019.
The Basic Sniper course is a prerequisite for the Advanced Sniper Course.
You cannot attend the advanced Sniper course if you haven't done the basic course.
You need to have your own bolt action rifle to be able attend any sniper courses we present.
This course is ideal for hunters who would like to become better shooters.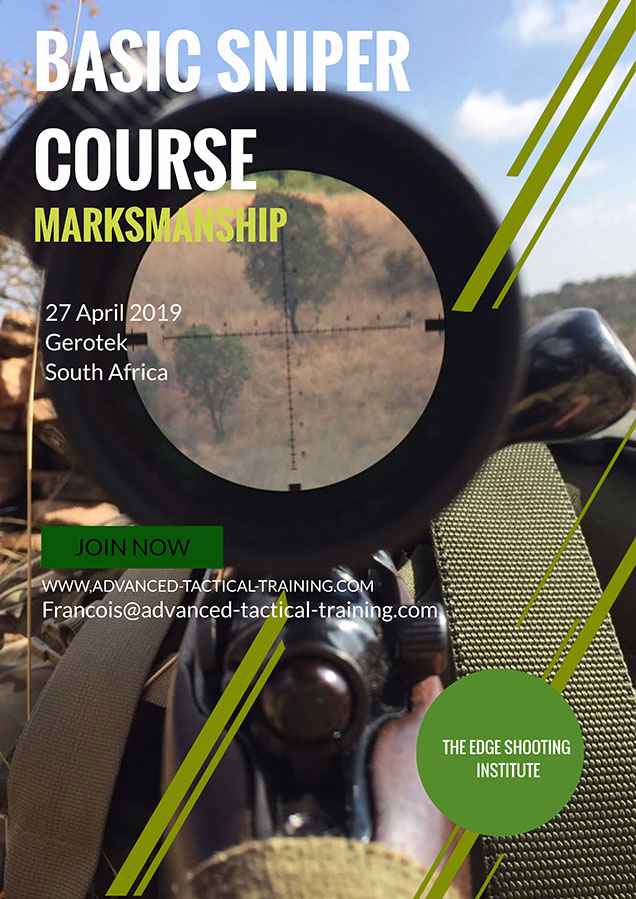 The curriculum for the basic course is the following:
Introduction to the sniping concept
Equipment
Rifle
Telescopes
Basic ballistics
Setting up of sniper system ( shooter, rifle, telescope and ammunition)
Basic marksman ship
The curriculum for the advanced sniper builds on the foundation laid in the basic course and is the following
Advance shooting techniques
Range and wind estimations
Stalking techniques- camouflage and movement
Angle shooting
Special shooting situations ( shooting through mediums)
Advance ballistics
Hides
Observation posts
Anti-tracking
We will be limiting the basic course to 10 students. The details of the courses are given below: